Fill up this form to grab opportunities for
FREE Education in Germany
Education in Germany for Indian Students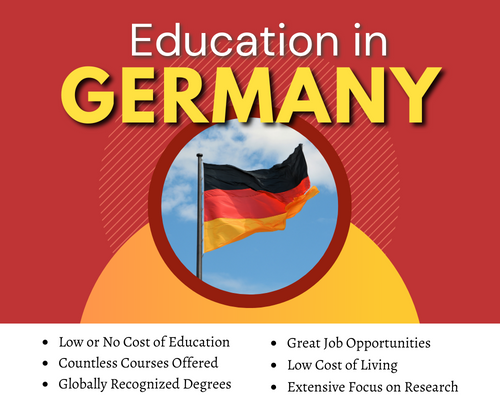 Germany is a popular destination for Indian Students seeking higher education abroad. The country has a well-established education system with globally recognized degrees and affordable tuition fees. German universities offer a wide range of Masters and Bachelors courses in various fields, including Engineering, Medicine, and Business. 
Students can also benefit from scholarships and funding opportunities to support their studies. With a focus on practical learning and research, German education equips students with the skills and knowledge needed to excel in their careers. 
Additionally, the countrys strong economy provides excellent job prospects for graduates. Overall, Education in Germany for Indian Students is an excellent choice to pursue higher education abroad.
Many students from all over the world aim to Education in Germany for their under Graduation or Post-Graduation. Universities in Germany are famous not just for their exemplary campus and research facilities but are also perceived by many students as an incubator for developing a global citizenship by communicating with people from different ethnicities.
ERFOLG is committed to providing FREE independent Advice and Support to all students applying to Education in Germany. Our international university counsellors are fully Experienced and has very detailed insight on Education in Germany for Indian Students, and are here to help guide you through each step of the application process to any German university, for Master's Program or Bachelor's.
Popular Courses in Germany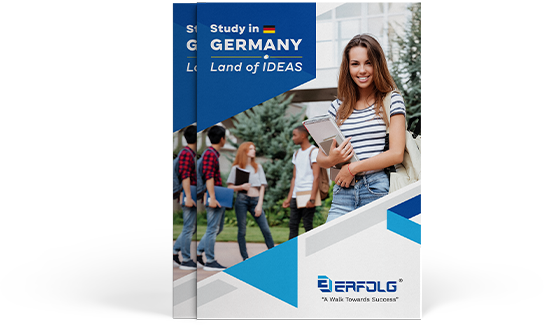 One Stop Gateway - Study in Germany
Top Universities in Germany









Trusted by Thousands of Students
"Planning for abroad studies just take one right step to start." I am contended and professional application procedure as per student's desire which landed me with successful start of new venture.
"Erfolg is only a firm where you can get all information about higher education in Germany. As Iam from Kosovo and living almost 6000 km far from India but they gave me all information and guide me on phone call through my whole admission process. Very trust worthy people. Highly recommend"
"Genuine counselling services for Germany. You can blindly trust them. Got admission in the best University through ERFOLG."
Erfolg was recommended by my friends. Came here for educational advice for higher studies in Germany. The team is superb, helped me with every process starting from universities shortlisting till the visa application. Mine doubts were always entertained and the team helped me every time to clear them. Would definitely recommend to others this place if planning for education in Germany.