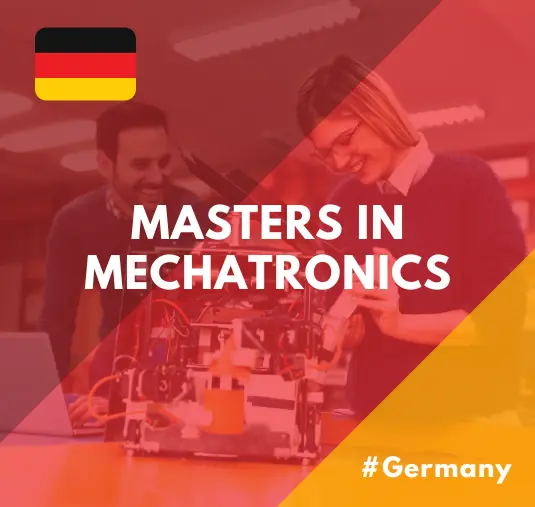 Masters in Mechatronics in Germany​
German cities are attractive places where modern technology exists alongside a wonderful culture.
Germany not only beats countries like the United States and the United Kingdom in terms of higher education levels, but it also offers the same at spectacular costs! If you're an engineering student looking to pursue an MS in Mechatronics abroad, Germany is an excellent option.
There is a Masters Program in Mechatronics in Germany that provides training for a fulfilling profession in engineering.
You'll gain a thorough understanding of electrical and Mechanical Engineering, applied mathematics, as well as other disciplines like physics and computer science, thanks to the Masters in Mechatronics in Germany.
Why Choose Germany to Earn a Masters in Mechatronics?
We start by understanding why Germany is a popular option to Study Masters in Mechatronics.
1 – Popularity
While all academic subjects are represented in the large range of programs offered by German universities, engineering is the most popular. Nearly 40% of all foreign students in Germany enroll in various engineering courses. German robotics masters degrees are one of the greatest choices among these.
2 – Career Opportunities
Because companies, enterprises, and engineering institutes work together, German students seeking an MS in Mechatronics get a well-rounded education. Additionally, it prepares them for their future career goals.
3 – Affordability
Around the world, technical subjects with courses are usually the most expensive. It would be expensive to study mechatronics, which includes multiple multidisciplinary subjects including engineering and robotics.
In Germany, the cost of MS in Mechatronics is affordable. Mechatronics is a specialization at the best free public colleges in Germany! If you hold a Bachelor of Engineering and want to work in a subject like Mechatronics, Germany is the best option for you.
ERFOLG the Top Study in Germany Consultants in Ahmedabad, Gujarat, and Mumbai, India will help you in Profile Evaluation, University Selection, Application and Documentation, Education Loan, Open Blocked Account, Insurance, VISA Preparation, Learn German Language, etc. Get Admission process for Masters in Mechatronics in Germany,
Why do students from India Favor Study Masters in Mechatronics in Germany?
1 – Education Quality
Countries like Germany, the USA, and UK frequently attract students interested in STEM (Science, Technology, Engineering, and Mathematics) fields because of their facilities, faculty, and resources. The chances Germany offers are attractive to Indian students who are interested in research or who wish to study the most recent technologies or developments in a particular sector.
2 – Global Exposure
Indian students studying in Germany are exposed to a fantastic amount of the world, and this attraction of working abroad is a massive attraction for Indian students. Additionally, there are very few universities in India that offer opportunities comparable to those at German universities.
3 – Study Gaps are Not a Problem
Universities in India are hesitant to accept applicants with a significant gap in their academic history. As a result, many students from India are choosing to study in Germany, where the gap in their academic careers is not a problem.
Have Questions?
Don't Hesitate to Contact Us
We're happy to clear your Queries.
Please feel free to get in touch with us using the contact form . We'd love to hear for you.
Or get in touch with us through these social media platforms :