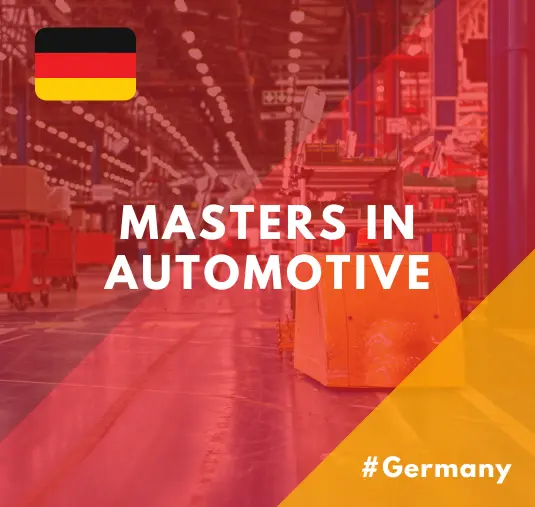 What is a Masters in Automotive Engineering in Germany?
Masters in Automotive Engineering in Germany cover all aspects of car production, including Design, Manufacture & Distribution Procedures, and Sales.
A Masters in Automotive Engineering offers specializations in automotive fields like environmental effects of vehicle powertrain, advanced automotive electronic systems, vehicle acoustics, vehicle integration, crash simulation, powertrain, and transmission calibration, or global automotive homologation, as well as a foundational understanding of engineering sciences.
What is a Masters in Automotive Engineering?
If your study programme is taught in the German language, are you concerned that you won't be able to keep up with your studies because you find it difficult to spell German words? Do you believe that while you need time to master it, your degree must wait? There is a fix for this issue.
Although German universities still offer the majority of master in automotive engineering, more English-taught study options have emerged in recent years. So where can you enrol in an English-language automotive engineering master's programme in Germany?
Why Study Masters In Automotive Engineering In Germany
We are all aware that education in German universities is free. However, there are a variety of other factors that drive international students to Germany to pursue a masters degree in automotive engineering.
Below are a few typical justifications for picking Germany for higher education – Worldwide, Germany is recognized as a centre for the vehicle industry. In Germany, there are numerous opportunities for career advancement in this field.
International exposure automakers, such as Audi, BMW, Volkswagen, and others, are based in Germany, offering Automotive Engineers good salary and attractive employment options.
Numerous scholarship programs are offered by German institutions to deserving candidates.
German colleges and universities offer top-notch education with a staff of professors and faculty members who are highly qualified.
Additionally, it is affordable for students to maintain a high level of life in Germany's secure environment.
Frequently Asked Questions