How to Navigate the German Student Visa Process
Learn how to navigate the German student visa process with ease: essential steps, documents, and requirements.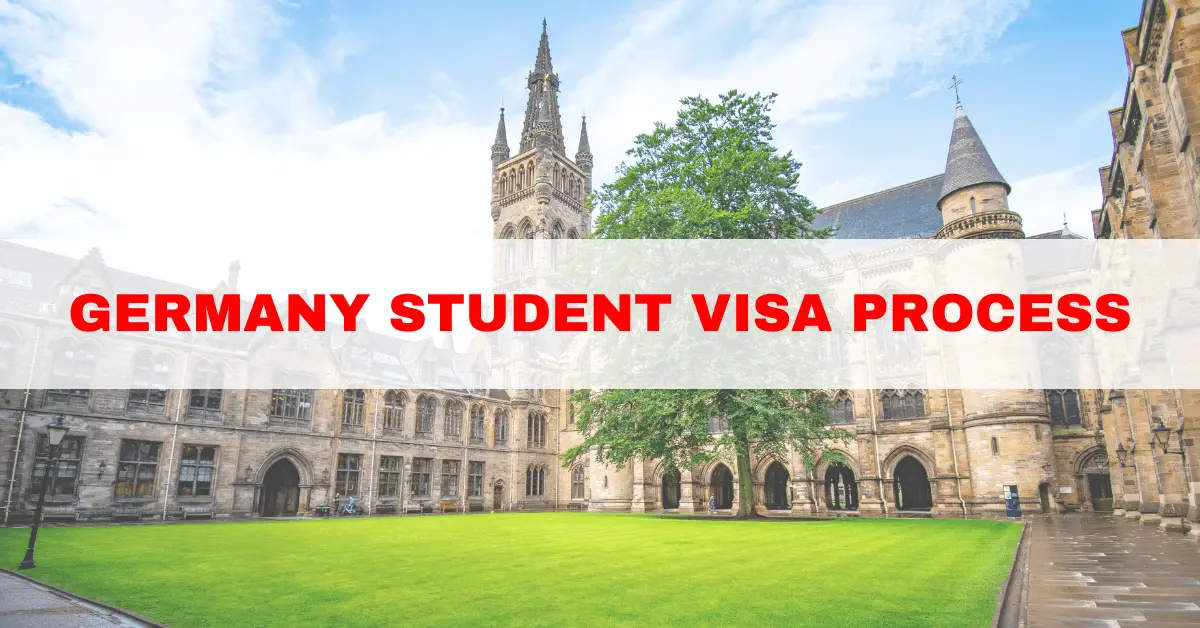 If you're considering studying in Germany, congratulations! Germany is known for its excellent education system, vibrant culture, and countless opportunities for international students.
However, before you can embark on your educational journey, it's essential to navigate the German student visa process. In this comprehensive guide, we will walk you through the steps involved in obtaining a German student visa, from the initial application to the final approval.
So, let's dive in and explore how you can make your dream of Studying in Germany a reality.
Understanding the German Student Visa Process
Types of German Student Visas
Germany offers different types of student visas based on the duration and nature of your study program. 
The Most Common Types include:
Language Course Visa (Visum zu Sprachkursen)

Student Applicant Visa (Visum zur Studienbewerbung)

Student Visa (Visum zu Studienzwecken)
Each type of visa serves a specific purpose, so it's crucial to determine which one is appropriate for your situation.
The duration of your German student visa depends on the length of your study program. Generally, the visa is issued for three months, allowing you to enter Germany and complete the necessary formalities. 
Once you arrive in Germany, you must convert your student visa into a residence permit at the local Foreigners' Office (Ausländerbehörde).
To be Eligible for a German Student Visa, you must meet certain criteria, including:
Being accepted into a recognized German university or educational institution

Having sufficient funds to cover your living expenses in Germany

Holding valid health insurance coverage

Meeting the language requirements, if applicable

Possessing a clean criminal record
Documentation Requirements
When Applying for a German Student Visa, you need to gather the following documents:
A passport must be valid for at least six months

Completed visa application form

Letter of admission from a German university

Proof of financial resources

Health insurance coverage

Passport-sized photographs

Academic transcripts and certificates

Language proficiency certificates, if required
Step-by-Step Guide to Obtaining a German Student Visa
1. Research and Choose Your University
Before you can apply for a German student visa, it's crucial to research universities and study programs that align with your academic interests and goals. Consider factors such as the university's reputation, course curriculum, location, and available resources.
2. Apply for Admission
Once you've chosen the university, you must apply for admission to your desired study program. Check the university's website for application deadlines and submission requirements. Prepare your application package carefully, ensuring that all required documents are included.
3. Secure Sufficient Finances
To obtain a German student visa, you need to demonstrate that you have enough financial resources to support yourself during your stay in Germany.
This requirement is in place to ensure that you can cover your living expenses without relying on public funds. The specific amount of funds required may vary, so it's essential to check the latest guidelines.
4. Gather Required Documents
Collect all the necessary documents for German student visa application. Check that your passport is valid for the duration of your planned stay. Fill out the visa application form completely and accurately, including all required information.
Prepare supporting documents such as your letter of admission, financial proof, health insurance coverage, academic transcripts, and language certificates.
5. Submit Your Visa Application
Submit your completed visa application form and all supporting documents to the nearest German embassy or consulate in your home country. Pay the visa application fee, which is typically non-refundable, and keep the payment receipt for future reference.
6. Schedule and Attend an Interview
After submitting your application, you may be required to schedule an interview at the embassy or consulate. The interview allows the visa officer to assess your eligibility and ask any additional questions. Be prepared to provide detailed information about your study plans and financial situation.
7. Pay the Visa Fee
Upon approval of your visa application, you will need to pay the visa fee. The fee amount can vary, so make sure to check the current rates. Once the fee is paid, you will receive a payment receipt.
8. Wait for Visa Processing
After submitting your application and completing the necessary steps, you must wait for the visa processing time. The duration can vary depending on various factors such as the time of year, the embassy's workload, and the complexity of your case. Be patient during this time and avoid making travel plans until you receive your visa.
9. Receive Your Visa
Once your visa application is processed and approved, you will receive your German student visa. The visa will be affixed to your passport, allowing you to enter Germany and pursue your chosen study program. Make sure to read and understand the visa conditions and restrictions outlined in your visa documentation.
Obtaining a German student visa is an essential step in pursuing your education in Germany. By following the steps outlined in this guide and ensuring that you meet all the requirements, you can navigate the German student visa process with confidence.
Remember to thoroughly research the specific German Student visa requirements for your situation and seek guidance from the German embassy or consulate in your home country if needed. With careful preparation and determination, you can make your dream of studying in Germany a reality.
Frequently Asked Questions by Students (FAQs)
Have Questions?
Don't Hesitate to Contact Us
We're happy to clear your Queries.
Please feel free to get in touch with us using the contact form . We'd love to hear for you.
Or get in touch with us through these social media platforms :