Exploring Masters in Germany Eligibility
Discover the Masters in Germany Eligibility. Get insights on requirements, qualifications, and more.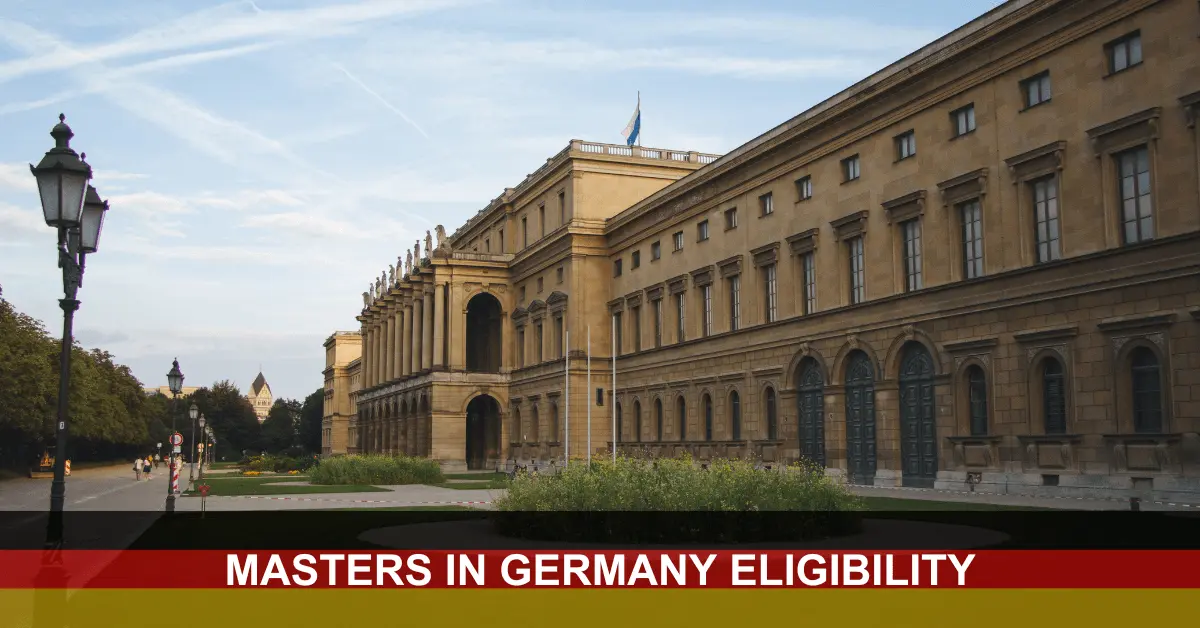 Germany has become a popular destination for international students seeking to pursue a master's degree.
Renowned for its high-quality education system, diverse academic programs, and excellent research opportunities, Germany offers an enriching experience for those aspiring to enhance their knowledge and skills.
However, before embarking on this educational journey, it is crucial to understand the eligibility for Masters in Germany. In this article, we will delve into the various aspects of masters in Germany eligibility, providing you with essential information to navigate the application process successfully.
Pursuing a master's degree in Germany offers numerous advantages, such as access to world-class universities, exposure to a multicultural environment, and the chance to build a global network. However, it is essential to fulfill certain criteria to be eligible for admission.
General Masters in Germany Eligibility Criteria
To be eligible for a master's degree program in Germany, applicants must meet specific general requirements.
These requirements typically include:
A bachelor's degree or equivalent qualification from a recognized university

Proof of academic excellence and the ability to succeed in the chosen program

Meeting the language proficiency requirements

Demonstrating financial stability

Fulfilling health insurance obligations

Obtaining a valid student visa
Educational Requirements for MS in Germany
The educational requirements for masters in Germany eligibility may vary depending on the program and university.
Generally, applicants should possess a bachelor's degree in a related field to the master's program they wish to pursue. Some universities may require a specific grade point average (GPA) or additional qualifications, so it is essential to review the specific requirements of each institution.
Since the language of instruction in many German universities is German, international students are often required to demonstrate proficiency in the German language. 
The most common language proficiency tests accepted by German universities are TestDaF (Test Deutsch als Fremdsprache) and DSH (Deutsche Sprachprüfung für den Hochschulzugang).
In addition to language proficiency tests, some master's programs may require applicants to take specific entrance exams. 
These exams assess the applicant's aptitude and subject knowledge related to the chosen field of study. Popular entrance exams include the GRE (Graduate Record Examination) and the GMAT (Graduate Management Admission Test).
To ensure that students can cover their living expenses while studying in Germany, applicants are required to provide proof of financial resources.
This proof typically includes bank statements, scholarship certificates, or sponsorship letters demonstrating the ability to support oneself during the duration of the program.
Health insurance is mandatory for all students studying in Germany. International students can obtain health insurance either through statutory health insurance providers or private insurance companies. It is essential to have health insurance coverage before arriving in Germany.
International students from non-European Union (EU) countries must obtain a student visa to study in Germany.
To apply for a student visa, applicants need an admission letter from a German university, proof of financial resources, and valid health insurance coverage. It is advisable to contact the German embassy or consulate in your home country for detailed visa requirements and procedures.
It is crucial to be aware of the application deadlines set by German universities. Application periods vary depending on the university and the program.
Generally, application deadlines for winter semesters (starting in September/October) are between May and July, while deadlines for summer semesters (starting in March/April) are between November and January. However, it is recommended to check the specific deadlines of each university.
University-Specific Eligibility
Each university in Germany may have specific eligibility criteria for masters in Germany. Some universities may require additional documents, interviews, or portfolio submissions. It is crucial to thoroughly research the admission criteria of the universities and programs you are interested in to ensure you meet all the necessary requirements.
Scholarships and Funding Opportunities
Germany offers numerous scholarships and funding opportunities for international students. These scholarships can significantly assist in financing your master's degree.
Some prominent scholarship programs include DAAD scholarships, Erasmus scholarships, and various university-specific scholarships. It is advisable to explore these options and apply them accordingly.
Choosing the Right Program
With a vast range of master's programs available in Germany, it is essential to choose a program that aligns with your academic and career goals.
Consider factors such as specialization, research opportunities, faculty expertise, and university rankings while making your decision. Thoroughly research the programs and contact university advisors or professors to gain insights into the curriculum and available resources.
Preparing Your Application
To maximize your chances of acceptance, it is crucial to submit a well-prepared application. This includes writing a compelling statement of purpose, gathering recommendation letters, preparing a comprehensive resume, and submitting all required documents promptly. Pay attention to each university's specific application guidelines and tailor your application accordingly.
Living and Studying in Germany
Living and studying in Germany can be an enriching experience. Familiarize yourself with the local culture, student support services, and accommodation options.
Germany offers a high standard of living, excellent public transportation, and a vibrant social scene. Take advantage of these opportunities to make the most of your time in Germany.
Pursuing a master's degree in Germany can open doors to exciting academic and professional prospects. By fulfilling the MS in Germany for Indian Students Eligibility, you can embark on a transformative educational journey. 
Remember to thoroughly research each university's specific requirements, prepare a well-rounded application, and seize the opportunity to immerse yourself in the rich academic and cultural environment that Germany offers.
Have Questions?
Don't Hesitate to Contact Us
We're happy to clear your Queries.
Please feel free to get in touch with us using the contact form . We'd love to hear for you.
Or get in touch with us through these social media platforms :